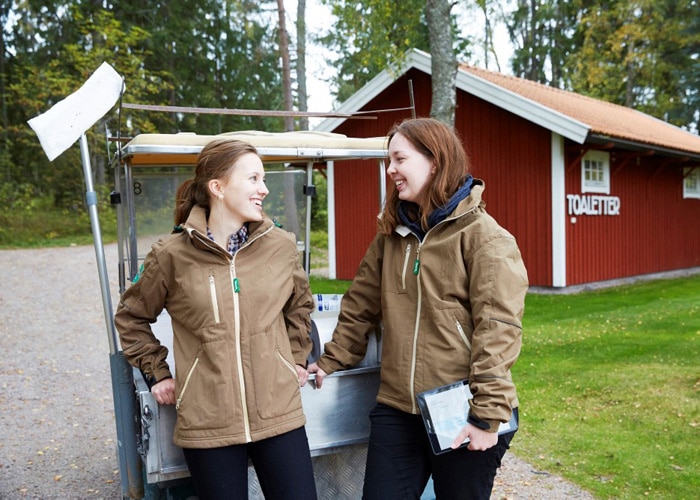 Tork EasyCube has changed everything
Not only has Tork EasyCube® made the cleaning job more fun, visitor satisfaction with the washrooms at Furuvik zoo and amusement park is better than ever. "I've been able to spend less time overseeing cleaning while actually being more in control", says Park Support Manager Kajsa-Lotta Halvarsson.
With everything from camels and water slides to roller coasters and a concert venue, Furuvik zoo and amusement park brings families together to enjoy the short, intense Swedish summer.
This season a new tool has helped Furuvik achieve a breakthrough in visitor satisfaction with the washrooms. Thanks to Tork EasyCube, Furuvik has achieved visitor satisfaction goals for washrooms 46% more often in 2016 than the year before – even while raising the goals.
Tork EasyCube® is a digital cleaning management solution using connecting dispensers and visitor counters to provide real-time info on what is needed and where.
"The more tasks you tick off, the happier you feel," Furuvik cleaner Malin Blom (to the right) says about the tablet, "With the time the system has saved us, we've also been able to clean the offices and go the extra mile when cleaning the washrooms. Visitors have been giving us a lot of praise."
"Park personnel call out to the cleaning team over walkie-talkie if they hear about a washroom that is out of paper or soap. Last season we had at least three calls per day, this year I've only heard five during the entire summer," says Kajsa-Lotta Halvarsson.
Furuvik cleaning team leader Elvira Ivarsson emphasizes the effect that the service has on the cleaners' working life:
"Tork EasyCube has been great for team spirit – there's no need to argue about where to clean when you have the facts right in front of you. And keeping an eye on the tablet means we can actually relax during breaks. With Tork EasyCube, you know you're in control."
Tork EasyCube has proven to be a practical tool for business development. Kajsa-Lotta Halvarsson has used the data from Tork EasyCube to map washroom traffic across the park. Furuvik management will now invest in more washrooms, and park signage will be adjusted to direct visitor flows more efficiently.
Kajsa-Lotta and the cleaning team cannot imagine going back to working without Tork EasyCube:
"Thanks to Tork EasyCube, we're saving several hours per day. The service has changed everything: in terms of efficiency you can hardly compare it to how things were before."